Category Archives:
Skill Development
One Best Skill development course for housewives
Are you a Housewife and you don't have sufficient skills to earn from home? Life after marriage is a commitment to get busier and it becomes difficult for women to handle their family along with their careers. One of the best Skill Development Courses is to learn Tailoring.
Hence Skill Development Course for housewives helps to support family and helps in Financial stability
Sometimes, women sacrifice their professional careers for their families. But when they want to start their career back it is difficult for them due to the career gap.
If you are a housewife on the quest to restart your career, there are various job-oriented courses for housewives that you can choose from to explore diverse career opportunities.
Women Empowerment to help Housewives
Empowerment definitions entail people having the capability to make important decisions in their lives while also being able to act on them.
Empowerment and disempowerment are relative to the other at a previous time; as such, empowerment is a process rather than a product.
The concept of livelihood extends to include social and cultural means, i.e. "the command an individual, family, or other social group has over an income and/or bundles of resources that can be used or exchanged to satisfy its needs.
This may involve information, cultural knowledge, social networks, and legal rights as well as tools, land and other physical resources".
Family, a group of persons united by the ties of marriage, blood, or adoption, constituting a single household and interacting with each other in their respective social positions, usually those of spouses, parents, children, and siblings.
Housewives earning from home have the advantages of being their boss, making decisions independently, and earning money with flexible hours. Housewives become financially independent so that the additional income also helps for future.
All needed is the Skill and Time management, also the preparedness to work hard. Thus, this helps in taking care of family and kids.
Women skill development program to Enhance their skills
Women in our society have different training needs than men since they are burdened with household chores and their off-spring responsibilities, moreover, at times contribute as subsistence farmers or low-paid laborers.
Despite India's growing GDP at around 7% Female Labor Force Participation is going down i.e. 34% to 27%. Moreover, the female-male wage gap has also been stagnant at 50% (HDR, 2018).
Hence, Skill Development becomes a key to improving their household capacity, autonomy, and employability.
Income earning opportunities also enhances their sustainable livelihood and development in a long run.
Tailoring Skill Development
Clothing is one of the basic needs of human being people one becoming fashion conscious. With changes in fashion & style, the stitching of garments also changes.
Hence keeping in view the market demand and change in Fashion Technology, courses on Cutting, Tailoring & Dressmaking have been suitably designed in the structure of non-formal education. The beneficiaries are new literates and people with low education levels.
Besides in Indian tradition girls/women are expected to know tailoring to fulfill the basic stitching requirement at home.
Stitching garments at home is a money-saving device for the lower-middle-income group. Besides tailoring can be a vocation for self-employment for housewives.
Tailoring course benefits
After completing the course one can get employment in a garment manufacturing unit or get self-employed by opening a tailoring shop or working at home.
Free tailoring course
At Ebendavid Charities we provide FREE Tailoring Course for women in villages whose status is rated Below Poverty Line. We have a set Terms & Conditions for the Beneficiary to take admission for no cost as detailed below:-
1) Age limit for a woman should be between 18 to 50 years.
2)Total Duration of this Course is 6 Months (720 Hours). To qualify for certification minimum 80% attendance.  Records are maintained at the center.
3) Every day 2 Hours class for 5 days in a week.
4) End of the course the student should submit an album to present their learning.
5) Certificate will be provided By Ebendavid Charities. Our Certificate is valid to get licensing to open a shop, can apply for a Free Sewing Machine under the State and Central Government of India.
6) After completing the course with the certificate many get placed in local garments and some buy the Sewing Machines to earn from home.
Is Tailoring hard to learn?
Learning any new skill can be challenging. The good news is that there are steps you can take to avoid some of the frustrations of the learning process!
Let's Start with Why: Why do you want to learn how to sew? What do you want to accomplish? Think about what type of stitching you want to learn.
Do you want to design the dress that you saw on Pinterest? Or do you just want to sew dresses for your children or your husband? The single most important choice you can make at this point is deciding what kind of sewing you want to learn.
It's also a good idea to consider whether you want to learn hand sewing or machine sewing. Hand-sewing can be easier because it is cheaper; you may only need to purchase a needle and a spool of thread to get started.
On the other hand, if you want to sew clothing, you probably need to learn how to operate a sewing machine.
Focus on the beginner anyone can learn how to sew a handkerchief (really, anyone can learn how to sew anything) but you shouldn't take this on as your first sewing project! It's best to start with a project that allows you to practice basic skills.
If you want to sew clothes, you will need to learn how to use a sewing pattern, how to cut out the pieces of your garment, and how to pin and sew the pieces together. Once you master these skills, you can sew as many handkerchiefs and dresses as you like!
FAQs
Is tailoring a good profession?
Yes, Tailoring is a good profession. All you have to do is find the right opportunity to develop your skill.
Is tailoring easy to learn?
Yes, tailoring is easy to learn
The best way to learn stitching as a beginner is to get familiarized with the sewing tools and stitching machine, learn basic mending & try simple projects.
tailoring course benefits
After completing the course one can get employment in a garment manufacturing unit or get self-employed by opening a tailoring shop or working at home.
What are the minimum eligibility criteria to pursue a course in tailoring?
A person with a minimum education of schooling is eligible to attend the Tailoring course provided by Ebendavid Charities.
Women empowerment and economic involvement are essential for women's rights to be strengthened and to take control of their lives and exercise influence in society. Unsustainable progress is impossible without women's economic empowerment. As a result of achieving gender parity and empowering women, development initiatives expand.
COVID Era
Wage disparities and the responsibility of unpaid care have driven more women out of the labor force and into poverty. Even before the pandemic, women's earning income in India was just one-fifth that of men. During COVID-19, more women lost their employment globally and in India.
According to recent research by the Centre for Sustainable Employment at Azim Premji University in India, just 7% of males lost their employment over the first lockdown in 2020, in contrast to 47% of women who lost their jobs and did not come back to work by the end of the year.
Women did significantly worse in the informal sector. During March and April 2021, rural Indian women made over 80% of the lost jobs in everyday occupations.
Nearly 70% of the health care workforce is female, putting them at increased risk of infection. Still, women are under-represented in leadership and decision-making processes in the health care industry.
Women's jobs, companies, earnings, and overall living standards may be more vulnerable to the predicted widespread economic impact from the crisis due to persisting gender disparities across many dimensions.
Many women are living alone on low salaries in the world than males. This situation puts these women at greater risk of economic instability.
Government on Women Empowerment
The Indian government has implemented various policies and regulations within the constitutional framework to increase women in different professions. In India, the majority of women are unskilled. As the link between job and labor, skills are essential.
Women's employability and income-earning possibilities can be improved via skill development, as can rural livelihoods and sustainable rural development. Indicators of income inequality and poverty provide a glimpse into the social effects of the economy.
Indicators of employment outcomes include employment rates, unemployment, youth dropout in education, and wages.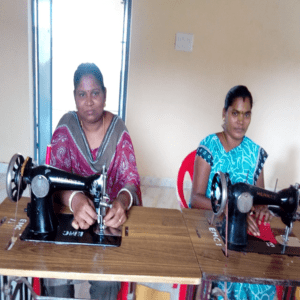 Skill Development
We at Ebendavid Charities have created a vocational training program to help women at a disadvantage and have little exposure to technical skills and knowledge. Currently, India has a capacity of about 3.1 million people per year for skill development.
A 15 million-person increase in yearly capacity is envisaged under the 11th Five-Year Plan (FYP11). As of 2022, the country aims to have 500 million skilled people on its payrolls. Increasing the capacity of skill development programs is therefore necessary. We have already successfully taught about 130 women skills like tailoring to earn their bread and butter.
Improving women's access to skill development, gender mainstreaming of content and delivery of training, and usage of digital platforms like YouTube for women's empowerment are just a few of the policies that should be simplified to enhance the productivity of the economy and the involvement of women.
It will serve as a road map for skill development and assist the government in accelerating the process. We have gathered a few critical starting points for making this movement even more accelerating:
Increasing the number of seats for the training program: There should be an increase in the number of training and apprenticeship seats and the number of female trainers to improve access to skill development.
Mechanisms for certifying trainers should be robust, and a new training institute for women trainers should be encouraged.
The unique Delivery mechanism is need of the hour: The importance of gender mainstreaming in training cannot be overstated. Unique delivery methods, such as transportable training units, flexible afternoon batches, and training tailored to local requirements are needed to overcome the gap.
Should also consider problems relating to women's rights such as a safe training environment, the hiring of women trainers, and an equitable compensation system and complaint resolution process.
For skill development, ICT (Information and Communication Technology) should be used. Promote the use of the internet or mobile-based platforms that would link talented women with employers.
A particular focus should be placed upon those women who are eager and ready to return to work after a hiatus, as well as those who are affected by migration. Following techniques can be used for retaining female employees:
Introduction of role models in the relevant fields to the trainees is essential.

Increase the number of opportunities for students to get their hands dirty.

Encourage trainees to share their experiences by collecting and displaying testimonials.

Quickly locate candidates in under-served areas.

Initiate and implement a comprehensive equity strategy to identify and resolve discriminatory behaviors and artificial barriers to girls' enrolment.
Airbnb, for example, is working with the government to boost homestay services by offering training in the hospitality and tourist industries. AMRITA VISHWA VIDYAPEETH is working with PMKVY to empower women in rural areas via skill development and job creation. While the initiative has a strong focus on disadvantaged people, it also includes indigenous populations.
The initiative has been conducted in Chhattisgarh, Odisha, Jharkhand, Kerala, and Tamil Nadu, with over 50% involvement from women. In Odisha, a partnership with the Humara Bachpan Trust seeks to provide job and business possibilities to about 1500 women from economically disadvantaged backgrounds.
As part of a partnership with Industry Crafts Foundation, a collection of producer group enterprises, women in Karnataka are being trained and supported. Homestays in the North East (Nagaland and Arunachal Pradesh) are getting better because of a partnership with Youthnet Home Stay Project.
Women Employment
According to the National Skill Qualification Framework (NSQF), over 450 employment opportunities are devoted to the training of women's skills. Female involvement in new-age employment positions linked with Industry 4.0 like artificial intelligence, 3D printing, data analytics, etc., is encouraged by Skill India.
The number of women participating in hard skills such as welding and automotive mechanics has also grown. For example, CNC mechanics, artificial intelligence, and cyber security, which represent the future of work, have become popular among young ladies who have been exposed to our programs.
During the last two years alone, 892 women were trained as automation specialists, while around 500 were educated as CNC Operators, according to the report.
With the help of global industry giants like SAP, Adobe, and IBM, Skill India has created skill development programs matched with Industry 4.0 requirements.
We must test and mainstream COVID-resistant skilling models as soon as possible. Identifying talent shortages in important industries requires a comprehensive knowledge of the demand and supply imbalance.
Skill-based training is a critical component of employee development in India, and Ebendavid Charities is preparing to extend its skill-based training programs to make women develop their skills in tailoring and earn their meals.
Sources:
Economic empowerment and skills development for young women | UN Women – Headquarters. (n.d.). Retrieved September 15, 2021, from https://www.unwomen.org/en/what-we-do/youth/economic-empowerment-and-skills-development-for-young-women
Empowering Women through Skills and Workforce Development | Center for Strategic and International Studies. (n.d.). Retrieved September 15, 2021, from https://www.csis.org/analysis/empowering-women-through-skills-and-workforce-development
Shetty, S., & Hans, V. B. (2019). Education for Skill Development and Women Empowerment. https://papers.ssrn.com/abstract=3348246
Women Empowerment through Skill Development. (n.d.). Retrieved September 15, 2021, from https://www.devalt.org/newsletter/may19/of_1.htm
Womens Empowerment – Facts, Stories and How To Help | World Vision Australia. (n.d.). Retrieved September 15, 2021, from https://www.worldvision.com.au/womens-empowerment/