Feed the Hungry in Just Rs.50 per meal
DONATE NOW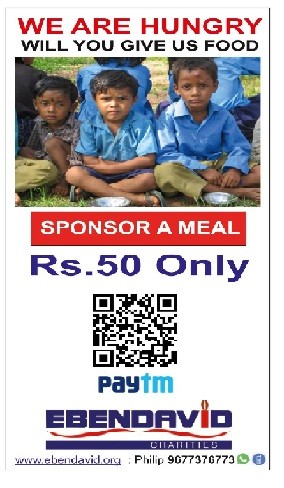 We all know how Coronavirus disease 2019 has affected globally. Many people have lost their lives, jobs, loved ones, became homeless, and even lost their appetite.
As per the survey, nearly about 3000 children die due to hunger daily and over 20 crore go to sleep empty-stomach every day. Seeing the current scenario, we at Ebendavid Charities, a non-profit organization situated in Chennai, are trying our best to at least reach out to at least 5000 children who are in need, especially children of the age group 3-12 years.
We realized that due to pandemics, they are not only affected by losses that we all have gone through furthermore suffered from malnutrition, poverty, limited access to education and medical services. During the lockdown, we stayed connected through social media platforms. But these poor children who live in slum areas and on the platforms were all living isolated. They had nobody to talk to or play with.
As the cases are rising daily, there are high chances of 3rd wave of COVID-19. So maintaining all the rules and regulations of COVID-19, we have decided to help the children by providing them with a meal. Because where will these kids go?
At such a young age, they had to go through isolation, malnutrition, limited access to education, and no friends or gadgets to play with. These kids are our future generations who are as talented as our kids, all they need is a life with necessities like proper food, education, family, and shelter.
Try giving a thought of how amazing you would feel when you help these kids and see a beautiful smile on their faces. You can even teach your kids how to do a good deed at such a young age.
So help us to help them by being a part of this fundraising event and spread the word across so that we can reach out to the maximum number of children and achieve this target of feed the hungry by contributing Rs 50/- only per meal, your support can be to as many you can so that we can reach 5000 children.
Join our mission this month and make a difference in their lives by contributing only Rs 50/- per meal for a child. To do so in this post on the top you will find a link DONATE NOW or SCAN the QR code to take action.
Also, you can spread the message on all your social media platforms like WhatsApp, Facebook, Twitter, Instagram, LinkedIn and become a part of this cause. Together we can reduce poverty and help our future generations to grow and live better lives.
If you have any other fundraising ideas or want to volunteer then feel free to reach out to us. We are happy to welcome you all towards our mission of making every individual self-reliant and end poverty.
We at Ebendavid Charities thank you for sponsoring and beautifully impacting their life.