Best Prevention of Children from the third wave of Covid-19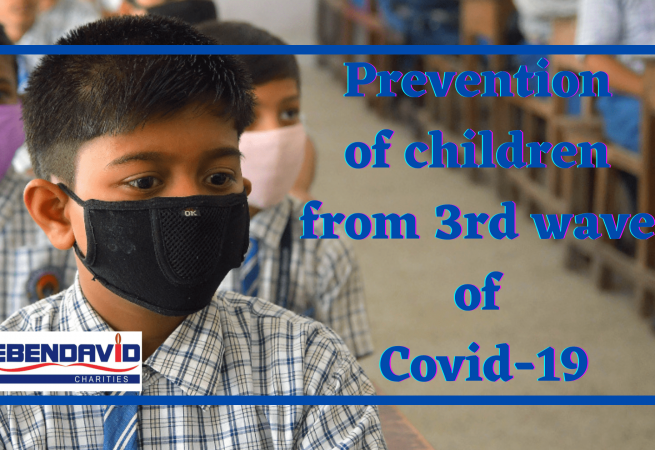 What is Covid-19?
COVID-19 is an infectious disease caused by the SARS-CoV-2 virus which is a severe acute respiratory syndrome coronavirus 2 (SARS-COV-2). Prevention of Children from the third wave of Covid-19 is important as this can spread from one individual to another through respiratory droplets.
These droplets are present in the air and you can catch the virus when you breathe, talk, cough and sneeze.
The first case of Covid-19 in India was reported on 30th January 2020 in 3 towns of Kerala. And the first case of Covid-19 in Tamil Nadu was reported on 7th March 2020.
Covid-19 lockdown in Tamil Nadu
On 13th May 2020, Tamil Nadu had reported (30,987 cases) which was the largest single-day spike and also became the fourth-highest number of Covid-19 confirmed cases in India after Maharashtra, Kerala, and Karnataka.
Lockdown in Kerala and other parts of the country were announced and went into action on 23rd March 2020 for Kerala and for the rest of the country, it was 25th March 2020.
Covid-19 lockdown in Chennai
After being the fourth-highest number of confirmed cases of Covid-19, Tamil Nadu Chief Minister Edapaddi K Palaniswami announced a complete lockdown for four days in Chennai, Coimbatore, and Madurai from 26th April 2020 to 29th April 2020 to control the spread of Covid-19 before going for full lockdown.
Covid-19 in Chennai today
Recently, Tamil Nadu has 16,221 active Covid–19 cases and has risen up amongst the districts as well with Coimbatore registered the highest number of active Covid-19 cases with 244 people testing positive followed by Chennai with 186 and Chengalpattu with 108 per day.
Tamil Nadu has seen a hike in new Covid-19 cases. On 23rd September 2021 Tamil Nadu Chief Minister M K Stalin has announced that the lockdown on the State would be extended till 31st October 2021 in view of the spread of the virus during the pandemic.
Third wave of Covid-19 in India
According to the Chief of the Covid-19 working group, India has been experiencing 30,000-45000 cases of coronavirus infection every day for the past several weeks, primarily in Kerala, some northeastern states, and a few districts of Maharashtra.
A panel appointed by the central government, in its recent study has said that the third wave of Covid- 19 in India can witness 6 lakhs cases per day due to the festive season if the vaccination rate does not improve in the country.
In India, the festival season will begin from October to December resulting in socializing and celebrations. A high number of Covid-19 cases have been reported during such gatherings in the past two waves of Covid-19.
Covid-19 Prevention
"Prevention is better than cure" – Desiderius Erasmus, the Dutch philosopher had said and we all agree with it as well. By taking Covid-19 prevention, together we can stop the spread of Coronavirus. All we need to do is follow these basic Covid-19 prevention measures:-
Wash your hands frequently after coming home from outside.
Wash your hands with soap or use an alcohol-based sanitizer.
Avoid touching your face, eyes, shaking hands with other or giving someone a hug.
Stay away at least 1 meter apart from others and maintain social distancing
Wear a properly fitted mask which covers your mouth and nose.
Cover your mouth and nose when coughing or sneezing.
If you feel unwell, stay home and self-isolate until you recover.
Covid-19 Symptoms
Before you fully develop Covid-19 symptoms, you are likely to carry the virus with you for 2 days or up to 2 weeks.
The most common symptoms of COVID-19 are:-
Fever
Dry cough
Tiredness or Fatigue
Body ache
Loss of taste
Headache
Sore throat
Nausea or vomiting
Red eyes
Diarrhea, or a
Skin rash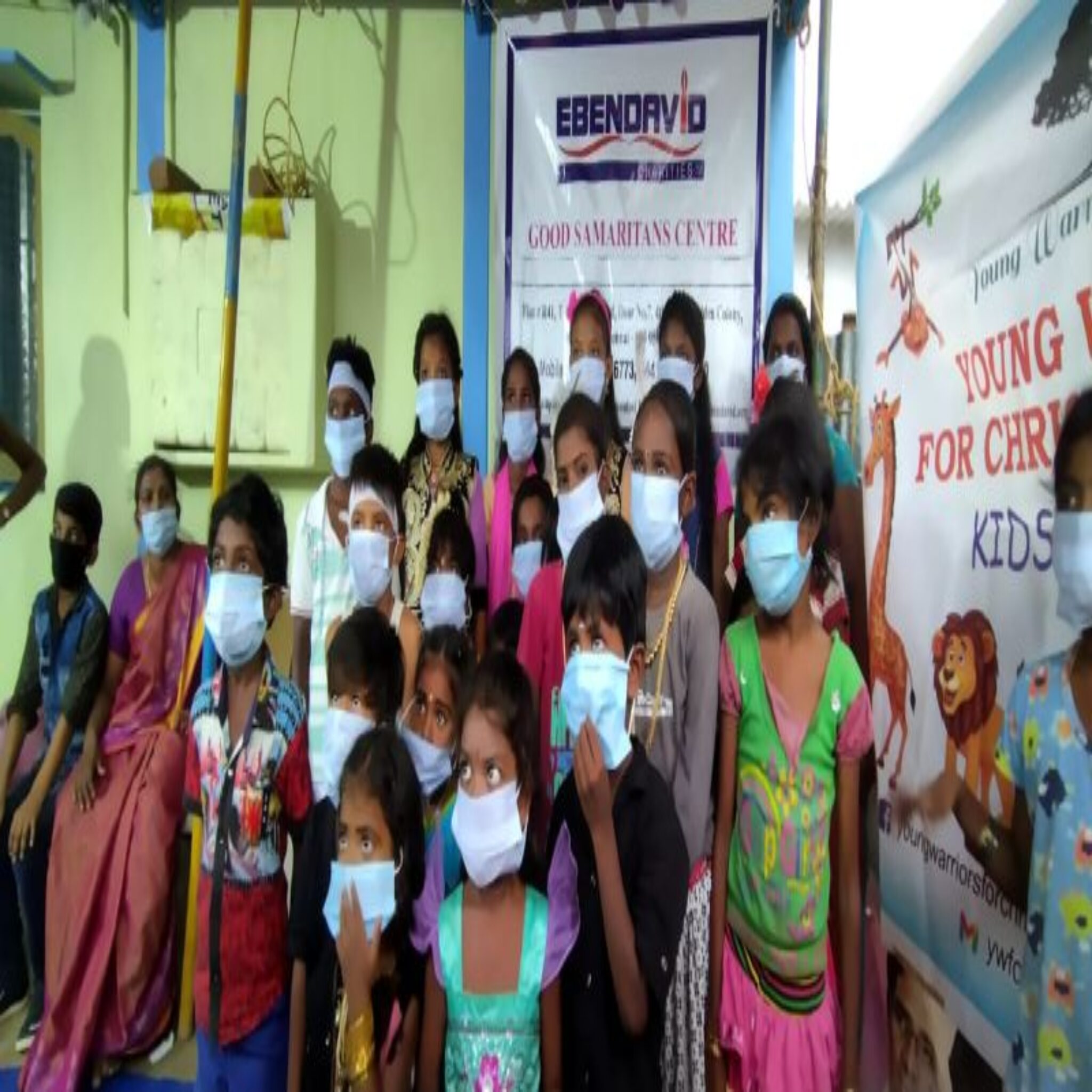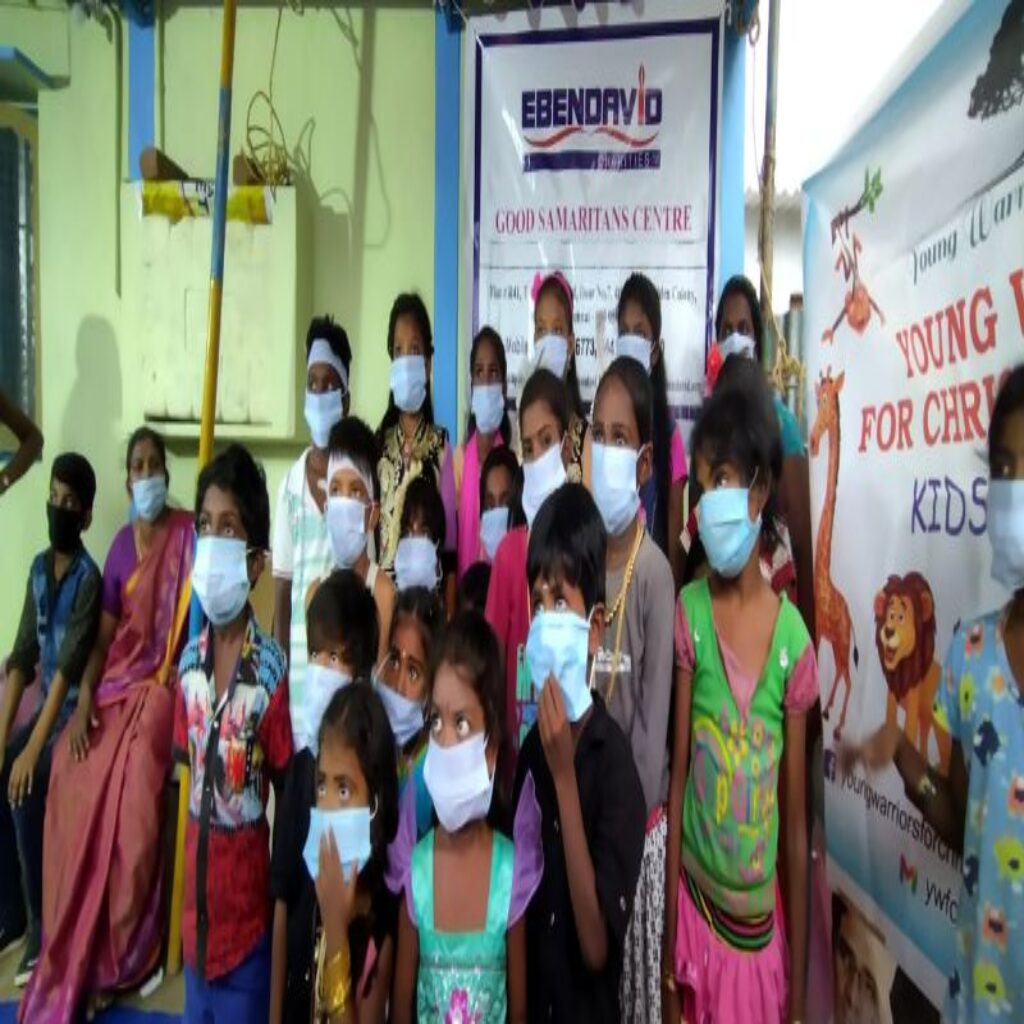 Covid-19 Awareness
As the number of COVID-19 cases is increasing rapidly and there is a high chance of a third wave which will majorly affect the children.
So, we at Ebendavid Charities started with an awareness drive by taking the responsibility of educating the children about the Covid-19 and the precautions that need to be taken by explaining the 6 best ways to protect themselves from Covid-19.
Around 30 children of the age group 8-14 years had gathered for this event and with the help of illustration, they were explained these 6 best ways to protect themselves from Covid-19 so that it's easier for them to understand and bring it to practice.
Here are the 6 best ways to protect your child from Covid-19:
Maintain physical distance and stay at home as much as possible, unless required.
Always wear your face mask which should cover your mouth and nose when you are going outside. Children above two years of age can also wear a mask.
Wash your hands with soap, or use a 70 per cent sanitizer, making sure the whole surface of the hands is covered. Remember not to touch your face, eyes, nose and mouth.
Do not share your tea cups, utensils, food or drinks with others.
Eat a healthy diet which has high nutritional value along with plenty of water.
If any of the family members are affected by COVID-19 and there is no one to take care of the child then call on 1098 so that CHILDLINE can take care of the child.
By the end of the event, masks were distributed to every individual child. Covid-19 fever temperature range
Covid-19 fever temperature range
Fever is frequently cited as the most common symptom of COVID-19. A July 2020 study of 213 people with mild disease discovered that only 11.6 percent of them had a fever.
The temperature range for fever may vary as per the age during the times of Covid-19. Infants should have a rectal temperature of 100.4°F (38°C) or higher.
Toddlers and children having a temperature of 102.2°F (39°C) or above while for adults, a fever temperature range of 103 F (39.4 C) or higher is a sign of serious illness of Covid-19 infection.
Covid-19 Prevention Home Remedies
If you have mild symptoms or few symptoms of Covid-19, then take Covid-19 home isolation treatment. This is the best and easiest way to cure yourself of Coronavirus with 14 days quarantine duration.
If you or someone else in your family has got Covid-19 symptoms then that person must use a separate room along with utensils and other necessary items.
This is important as it will prevent other family members from getting Covid-19 symptoms. As the immune system of Covid-19 patients is weak, it is important for them to get plenty of sleep which will help to support their immunity.
Wear a mask that covers your mouth and nose when speaking or in contact with the Covid-19 patient. Maintain at least a 2-meter distance with the Covid-19 patient.
If someone else washing the Covid-19 patient's dishes, cups, or other utensils then advise them to wear gloves and wash them using hot water which will help prevent the spread of Covid-19 from one person to another.
Wash your hands after removing the gloves and then touch anything else.
As schools reopen, it is critical to take necessary precautions and prevention measures to stop the spread of Covid-19 inside the classrooms.
Wear mask on the face which covers mouth and nose
Maintain a distance of at least 1 meter between everyone present at school
Increase the desk space so that the children can follow social distancing
Encourage students not to socialize in large groups after leaving the school grounds.
Make posters on the five steps for hand washing which will encourage students to follow.
If there is limited access to wash hands with soap in the school, then use a hand sanitizer that contains at least 60 per cent of alcohol.
If students sneeze or cough into a tissue or into their elbow then instruct them to immediately wash their hands or use hand sanitizer.
Covid-19 prevention measures taken by Schools
Apart from students, the school needs to take even more preventive measures in the times of Covid-19.
Schools should daily be cleaning and disinfecting the surfaces and objects that are often touched like desks, doors, computer keyboards, hands-on learning items, taps, phones, and toys.
Covid-19 Helpline number Chennai
CORONA ( COVID 19 ) HELPLINE : 011-23978046 OR 1075

TAMIL NADU COVID 19 HELPLINE NUMBER : 044-29510500, 25615025, 28414513, 28593990
Sources / References:-
https://www.healthline.com/health/coronavirus-covid-19#causes
https://www.who.int/health-topics/coronavirus#tab=tab_1