Women empowerment and economic involvement are essential for women's rights to be strengthened and to take control of their lives and exercise influence in society. Unsustainable progress is impossible without women's economic empowerment. As a result of achieving gender parity and empowering women, development initiatives expand.
COVID Era
Wage disparities and the responsibility of unpaid care have driven more women out of the labor force and into poverty. Even before the pandemic, women's earning income in India was just one-fifth that of men. During COVID-19, more women lost their employment globally and in India.
According to recent research by the Centre for Sustainable Employment at Azim Premji University in India, just 7% of males lost their employment over the first lockdown in 2020, in contrast to 47% of women who lost their jobs and did not come back to work by the end of the year.
Women did significantly worse in the informal sector. During March and April 2021, rural Indian women made over 80% of the lost jobs in everyday occupations.
Nearly 70% of the health care workforce is female, putting them at increased risk of infection. Still, women are under-represented in leadership and decision-making processes in the health care industry.
Women's jobs, companies, earnings, and overall living standards may be more vulnerable to the predicted widespread economic impact from the crisis due to persisting gender disparities across many dimensions.
Many women are living alone on low salaries in the world than males. This situation puts these women at greater risk of economic instability.
Government on Women Empowerment
The Indian government has implemented various policies and regulations within the constitutional framework to increase women in different professions. In India, the majority of women are unskilled. As the link between job and labor, skills are essential.
Women's employability and income-earning possibilities can be improved via skill development, as can rural livelihoods and sustainable rural development. Indicators of income inequality and poverty provide a glimpse into the social effects of the economy.
Indicators of employment outcomes include employment rates, unemployment, youth dropout in education, and wages.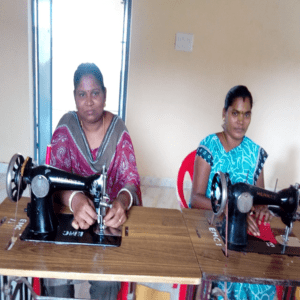 Skill Development
We at Ebendavid Charities have created a vocational training program to help women at a disadvantage and have little exposure to technical skills and knowledge. Currently, India has a capacity of about 3.1 million people per year for skill development.
A 15 million-person increase in yearly capacity is envisaged under the 11th Five-Year Plan (FYP11). As of 2022, the country aims to have 500 million skilled people on its payrolls. Increasing the capacity of skill development programs is therefore necessary. We have already successfully taught about 130 women skills like tailoring to earn their bread and butter.
Improving women's access to skill development, gender mainstreaming of content and delivery of training, and usage of digital platforms like YouTube for women's empowerment are just a few of the policies that should be simplified to enhance the productivity of the economy and the involvement of women.
It will serve as a road map for skill development and assist the government in accelerating the process. We have gathered a few critical starting points for making this movement even more accelerating:
Increasing the number of seats for the training program: There should be an increase in the number of training and apprenticeship seats and the number of female trainers to improve access to skill development.
Mechanisms for certifying trainers should be robust, and a new training institute for women trainers should be encouraged.
The unique Delivery mechanism is need of the hour: The importance of gender mainstreaming in training cannot be overstated. Unique delivery methods, such as transportable training units, flexible afternoon batches, and training tailored to local requirements are needed to overcome the gap.
Should also consider problems relating to women's rights such as a safe training environment, the hiring of women trainers, and an equitable compensation system and complaint resolution process.
For skill development, ICT (Information and Communication Technology) should be used. Promote the use of the internet or mobile-based platforms that would link talented women with employers.
A particular focus should be placed upon those women who are eager and ready to return to work after a hiatus, as well as those who are affected by migration. Following techniques can be used for retaining female employees:
Introduction of role models in the relevant fields to the trainees is essential.

Increase the number of opportunities for students to get their hands dirty.

Encourage trainees to share their experiences by collecting and displaying testimonials.

Quickly locate candidates in under-served areas.

Initiate and implement a comprehensive equity strategy to identify and resolve discriminatory behaviors and artificial barriers to girls' enrolment.
Airbnb, for example, is working with the government to boost homestay services by offering training in the hospitality and tourist industries. AMRITA VISHWA VIDYAPEETH is working with PMKVY to empower women in rural areas via skill development and job creation. While the initiative has a strong focus on disadvantaged people, it also includes indigenous populations.
The initiative has been conducted in Chhattisgarh, Odisha, Jharkhand, Kerala, and Tamil Nadu, with over 50% involvement from women. In Odisha, a partnership with the Humara Bachpan Trust seeks to provide job and business possibilities to about 1500 women from economically disadvantaged backgrounds.
As part of a partnership with Industry Crafts Foundation, a collection of producer group enterprises, women in Karnataka are being trained and supported. Homestays in the North East (Nagaland and Arunachal Pradesh) are getting better because of a partnership with Youthnet Home Stay Project.
Women Employment
According to the National Skill Qualification Framework (NSQF), over 450 employment opportunities are devoted to the training of women's skills. Female involvement in new-age employment positions linked with Industry 4.0 like artificial intelligence, 3D printing, data analytics, etc., is encouraged by Skill India.
The number of women participating in hard skills such as welding and automotive mechanics has also grown. For example, CNC mechanics, artificial intelligence, and cyber security, which represent the future of work, have become popular among young ladies who have been exposed to our programs.
During the last two years alone, 892 women were trained as automation specialists, while around 500 were educated as CNC Operators, according to the report.
With the help of global industry giants like SAP, Adobe, and IBM, Skill India has created skill development programs matched with Industry 4.0 requirements.
We must test and mainstream COVID-resistant skilling models as soon as possible. Identifying talent shortages in important industries requires a comprehensive knowledge of the demand and supply imbalance.
Skill-based training is a critical component of employee development in India, and Ebendavid Charities is preparing to extend its skill-based training programs to make women develop their skills in tailoring and earn their meals.
Sources:
Economic empowerment and skills development for young women | UN Women – Headquarters. (n.d.). Retrieved September 15, 2021, from https://www.unwomen.org/en/what-we-do/youth/economic-empowerment-and-skills-development-for-young-women
Empowering Women through Skills and Workforce Development | Center for Strategic and International Studies. (n.d.). Retrieved September 15, 2021, from https://www.csis.org/analysis/empowering-women-through-skills-and-workforce-development
Shetty, S., & Hans, V. B. (2019). Education for Skill Development and Women Empowerment. https://papers.ssrn.com/abstract=3348246
Women Empowerment through Skill Development. (n.d.). Retrieved September 15, 2021, from https://www.devalt.org/newsletter/may19/of_1.htm
Womens Empowerment – Facts, Stories and How To Help | World Vision Australia. (n.d.). Retrieved September 15, 2021, from https://www.worldvision.com.au/womens-empowerment/
DONATE NOW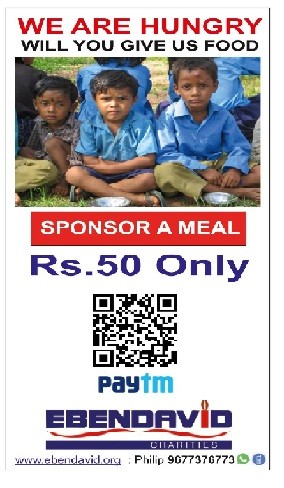 We all know how Coronavirus disease 2019 has affected globally. Many people have lost their lives, jobs, loved ones, became homeless, and even lost their appetite.
As per the survey, nearly about 3000 children die due to hunger daily and over 20 crore go to sleep empty-stomach every day. Seeing the current scenario, we at Ebendavid Charities, a non-profit organization situated in Chennai, are trying our best to at least reach out to at least 5000 children who are in need, especially children of the age group 3-12 years.
We realized that due to pandemics, they are not only affected by losses that we all have gone through furthermore suffered from malnutrition, poverty, limited access to education and medical services. During the lockdown, we stayed connected through social media platforms. But these poor children who live in slum areas and on the platforms were all living isolated. They had nobody to talk to or play with.
As the cases are rising daily, there are high chances of 3rd wave of COVID-19. So maintaining all the rules and regulations of COVID-19, we have decided to help the children by providing them with a meal. Because where will these kids go?
At such a young age, they had to go through isolation, malnutrition, limited access to education, and no friends or gadgets to play with. These kids are our future generations who are as talented as our kids, all they need is a life with necessities like proper food, education, family, and shelter.
Try giving a thought of how amazing you would feel when you help these kids and see a beautiful smile on their faces. You can even teach your kids how to do a good deed at such a young age.
So help us to help them by being a part of this fundraising event and spread the word across so that we can reach out to the maximum number of children and achieve this target of feed the hungry by contributing Rs 50/- only per meal, your support can be to as many you can so that we can reach 5000 children.
Join our mission this month and make a difference in their lives by contributing only Rs 50/- per meal for a child. To do so in this post on the top you will find a link DONATE NOW or SCAN the QR code to take action.
Also, you can spread the message on all your social media platforms like WhatsApp, Facebook, Twitter, Instagram, LinkedIn and become a part of this cause. Together we can reduce poverty and help our future generations to grow and live better lives.
If you have any other fundraising ideas or want to volunteer then feel free to reach out to us. We are happy to welcome you all towards our mission of making every individual self-reliant and end poverty.
We at Ebendavid Charities thank you for sponsoring and beautifully impacting their life.